Starring BEST KING I EVER SEE AT FUNERAL: VICTOR TALMADGE as Scrooge! Woo Hoo!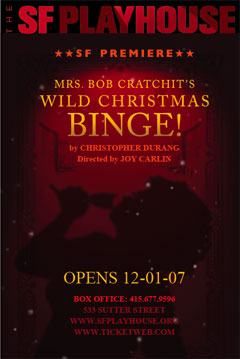 **SAN FRANCISCO PREMIERE**
Written by Christopher Durang
Directed by Joy Carlin
Wednesday-Saturday 8pm, plus Saturday 3pm
Preview November 28, 29, 30
Opens, Saturday Dec. 1st through Jan. 12, 2008
Mrs. Bob Cratchit's Wild Christmas Binge is a playful, cracked look at the perennial Dickens Christmas classic about mean Ebenezer Scrooge and his discovering the true meaning of Christmas through the visitation of Three Ghosts. In Durang's giddy version, the Ghost's magic is off, and Scrooge and the Ghost keep showing up at Bob Cratchit's house way too early, where Mrs. Bob Cratchit – a long suffering saint in the Dickens – is in a state of fury, hating her life and planning on getting drunk and jumping off the London Bridge.
Production Photos
If you would like to download high-resolution version of these photos, right-click the image and select "Save link as..." or simply click on the image and save the large version that appears. If you have any issues please email Susi@sfplayhouse.org
*Courtesy of Actors Equity
Photographer: Tatjana Genser